Are you ready to go beyond your current life experience & unlock your full potential?
Are you feeling the pull to move beyond what's holding you back? Is there a theme or roadblock that's showing up in your life which you would like transcend? Or perhaps there's a certain energy or quality you'd like to cultivate more of?
Do you desire to understand yourself, like really truly know yourself? Would you benefit from understanding the mechanics of the world around you and your place in it? How would it feel to live a life of ease, in complete flow and experience as much joy as possible?
Or perhaps you're ready to go through some serious transformation, to shed the skins of your past and welcome in a whole new reality, a completely new energetic frequency, an entirely upgraded self?
Do you feel inspired to commit to your personal evolution, dive deeper into practices like breathwork, kriya yoga and mantra, but would like the added support & wisdom of an exceptionally experienced mentor to guide you along the way?
Would you like someone to prescribe you the exact techniques you need to get you where you want to go. Someone to hold you accountable? Someone who you can check in with daily, someone who will have your back when life happens and you need that extra dose of support?
It's time...
Alongside one-on-one guidance and support, I'll tailor a combination of ancient wisdom & practices to best serve you along your desired path. An opportunity for you to bring forth any theme, desire, call or roadblock which is being highlighted in your life right now. We'll work together to initiate a process that will pave the way for lasting, life altering change. A chance for deep intentional practice and inner work which will unfold in the most breathtaking way.
A rare opportunity to work alongside an incredibly wise, intuitive, well trained and experienced guide who has travelled many paths of discomfort, change, challenge and growth herself and in the process has also mastered the art of utilising these ancient practices and wisdom for navigating (and really enjoying!) the beautiful mess of this chaotic modern world.
How I work
I'm not like every other meditation teacher and I'm certainly not like every other mentor. My approach to any type of growth or healing is an integrated one. Unlike many other practitioners or teachers I will combine aspects of Yoga-Vedanta, modern neuroscience, Ayurveda & nervous system calibration to bring about healing on a truly whole-being level. Through our mentoring we will work on the level of the mind to correct the mistaken intellect and uproot any deeply rooted limiting beliefs (pragyapardha). We will then work on the level of the energy body and subconscious mind utilising Vedic practices to release past patterns and instil new neural pathways. These practices will also work on a somatic level to release stress, trauma and conditioning from the body & nervous system. A deeply refined & healthy nervous system, in my opinion, is where access to your full potential lies. Without healing the nervous system, no amount of inner work will help you evolve. We'll also focus deeply on upgrading your electromagnetic frequency so that you can begin to truly align with the life experience you are desiring. You will also become fully confident in understating the laws of nature, how to engage with conscious change, refine your intuition - to the point that it's razor sharp - and to truly understand the cues that nature offers you, so that you can tap into the life of grace & flow you truly deserve.
No level of your being will go untouched. An upgrade like no other.
This work is the perfect fit for you if;
You're ready to heal your nervous system & experience more calm, stability, ease & joy

You're fatigued, experiencing hormone imbalance, burnout, CFS or adrenal fatigue

You're ready to move beyond anxiety & stress for good and learn a gentler way of being

You're ready to release trauma, grief, anger, rage, heartache, resentment, low self worth or limiting beliefs

You've had enough of your current life experience and are ready to uplevel to a greater way of being

You're seeking an increase in your energy, vibrance, vigour & radiance

You're craving a greater connection to your intuition and would like to cultivate greater clarity & insight

You'd like to enliven the experience of creativity, beauty, love and abundance in your life

You have someone or something you are ready to let go of for good, feeling like you're ready to break the bondage but not sure how

You experience ADHD, addiction, depression, anxiety or any other mental health conditions and would like to experience support and beneficial practices outside the mainstream

You're feeling blocked and stuck in your current way of being and craving something more but not sure how to get there

Your interested in beginning to make ancient Vedic wisdom part of your life or you already know a little and would like to take it to the next level

You're already a meditator or yogi and would like deep support with advanced practices, ayurvedic lifestyle support and Vedic wisdom to elaborate on your current meditation experience
1:1 Mentorship
A deep, personal, curated experience. Unique & tailored just for you.
Over the course of our time together we'll combine 1:1 mentoring calls (think Ancient Vedic wisdom, Ayurvedic lifestyle & nervous system support, a sprinkle of modern neuroscience plus deep intellectual enquiry) with a potent daily practice (may include meditation, mantra, breath or kriya) prescribed for you individual needs and desired outcome. Through the integrated approach of upgrading mind (conscious & subconscious), body & energy simultaneously you will experience growth across every aspect of your being...a truely tangible, lasting, upgrade of self.
What's included
 

Unique & personalised program tailored to your desired outcome

 

Personalised daily practice (we'll choose from breathwork, kriya, meditation & mantra at a length to fit your daily routine) 

 

Lifestyle adjustments & practices (where needed) may include Ayurveda, sleep hygiene, diet , nervous system support practices etc. 

 

1:1 Whatsapp voice message support (Mon - Friday 8am - 5pm)

 

6 x weekly 90 minute calls

 or 

12 x weekly 90 minute calls. The chance for you and I to go deep into whatever is needed for you. Here I'll integrate ancient Vedic wisdom, modern neuroscience & energetics, Ayurveda, nervous system repair knowledge & more
A gift for you
An extra little something to make sure your toolbox is full to the brim with everything you need to grow, feel supported and nourished as we embark on this time together 
 

 Free access to my Self Abhyanga (Ayurvedic self massage) Workshop ($49 VALUE)

 

3 Months Free access to the House of Being Membership ($180 VALUE)

Over 80 breathwork & kriya classes
Live workshops, events & challenges
Community forum
Members only Podcast
+ more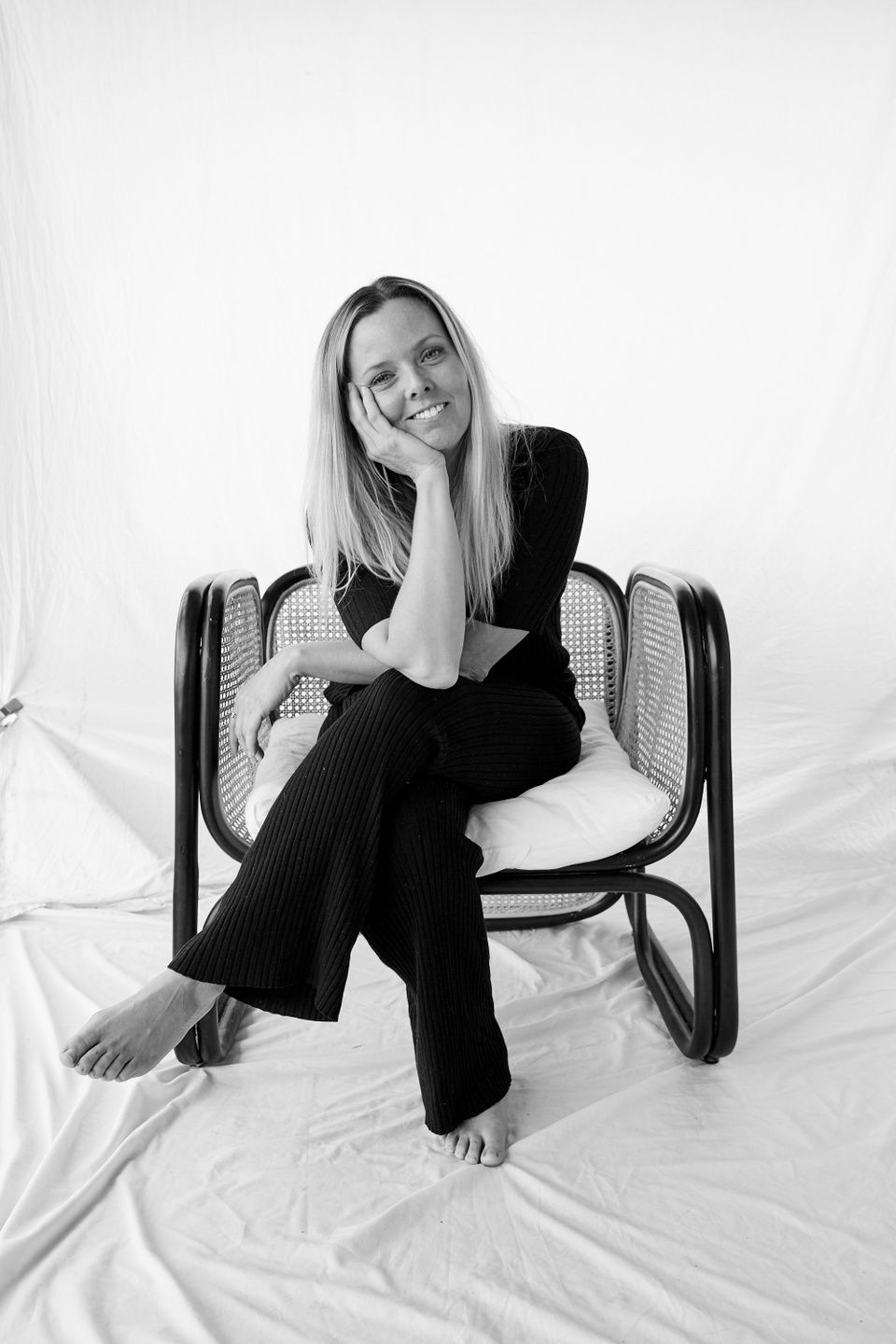 About Anne
Anne takes her many years as student and teacher of the ancient wisdom traditions of India and brings these teachings into the modern context. An expert when it comes to eradicating modern day stress, overcoming burnout & fatigue and cultivating a life of clarity, energy, creativity & happiness, Anne's knowledge & wisdom shared through both her meditation courses and 1:1 mentoring is nothing short of profound.
With over 1500 hrs of Vedic Meditation Initiator training while living in the foothills of the Himalayas and an additional 500 hours of Kriya Yoga teacher training, a decade of deep personal practice and exploration of the Vedic sciences coupled with her own life experience of healing chronic fatigue syndrome, crippling anxiety and a severely dysregulated nervous system, leaving and healing from abusive relationships, starting & exiting several successful companies and learning to thrive in life as a solo parent, Anne has a myriad of experience and training when it comes to traversing and excelling within this busy, modern world.
Examples of themes we can work with
 

Nervous system restoration & regulation

 

Deep rest - recovery from chronic fatigue & adrenal burnout

 

Matters of the heart - Overcoming heartbreak, softening & opening the heart, becoming receptive to love

 

Cultivating a life of beauty, joy, creativity & abundance

 

Breaking the bondage to another person or habit (breaking addictive patterns)

 

Overcoming grief + taking on an active practice of letting go

 

Refining and enlivening your intuition & insight

 

Releasing stress & anxiety and learning a more gentle way of being.

 

Increasing energy, vitality, vigour & radiance

 

Removing obstacles or roadblocks in life

Transcending limitting beliefs

 

Releasing trauma, anger, rage, resentment & grief

 

Connecting to your true nature / Being / higher self

 

Advanced Vedic wisdom & it's real world application

Aligned business - creating work that doesn't feel like work
What past clients have to say
"After weathering some big, life changing grief, working 1:1 with Anne has been transformative! Our work together, has led me to a true understanding of surrender, and an embodied one, not just that which we know intellectually.The practices she has shared have been powerful and her wisdom in how and when to impart them has been key. In a short time, I have stripped through layers of grief, sadness and pain, while simultaneously cultivating the strength and bravery that it takes to truly surrender to that which is and trust where I'm going – over and over again. It's been big, life changing in fact, and I'm beyond grateful that I chose to follow the call to connect with Anne."
- Brooke, Port Macquarie
"Anne and I began working together 1:1 in her 12 week mentorship program: working through some huge barriers, learning to use breathwork to assist my nervous system and healing on an even deeper level (I began meditating with Anne juts prior), doing inner child work which has been so transformative and powerful and having someone alongside me on my healing journey who I know has got my back but who also holds me accountable.
Anne's mentorship is not a light hearted, 'nice' mentorship that is just surface level - it requires commitment, a willingness to let go and step into new ways of being and a real longing to make some big changes in your life. However, I can promise you now that if you feel ready to step into these new possibilities, it will be one of the best decisions that you will ever make.
I can honestly hand on heart say that my life has changed in such huge and incredible ways since working with Anne and my life will never be the same again. I have already learnt so many new skills that I will be able to utilise for the rest of my life and I am forever grateful to Anne for sharing so much her wisdom. (And I have already signed on for another 12 weeks after the end of this course because I feel like we have only just begun..!)
Thank you Anne, from the bottom of my heart - you are incredible and I am so grateful to have you in my corner. 🤍
- Zöe, WA
"I've worked with Anne on and off for years and can honestly say I have come away from every interaction a better human. But nothing had prepared me for the profound impact a long term, 1:1 mentorship with Anne would have on my being. This is not some fluffy, surface-level, basic coaching container. This is deep, devotional work. It's powerful and life-changing and not for the faint of heart. It is for those who desire true transformation and who seek to know and show up as the purest, most loving version of themselves, but, you have to do the work to experience the change you are searching for. And that's where Anne truly shines. She will hold you - lovingly, patiently and fiercely - as you navigate the unknown. Her wisdom and knowledge of the Veda coupled with her vast life experience gives her guidance honesty and depth. It never ceases to amaze me how the gentlest question or the subtlest practice can offer the most profound shifts in perspective and experience. I am so very grateful. Thank you Anne."
- Hope, Brisbane
Investment & commencement
Applications are now open for commencement mid October.
Only 2 spaces are available
Both 6 week & 12 week options are available
(nb: this will be the last time I'll be running the 6 week option, all mentoring will move to 12 week blocks next year)
6 Week 1:1 Mentorship
$2400 upfront payment
or
8 x weekly instalments of $300
12 Week 1:1 Mentorship
$4500 upfront payment
or
14 weekly instalments of $322
*alternative payment plans are available upon discussion. 
** the above pricing assumes you are already trained in a transcending meditation technique (Being, Vedic, Sattva, 1GM, TM etc). If not, no problem, I will organise for you to sit my Being Meditation course at a heavily reduced rate prior to commencing our 1:1 work. A daily meditation practice is the foundation for all of my mentoring & techniques. 
If you would like to apply for 1:1 mentorship or have any questions, please leave your details below and I will be in touch ASAP to see if we are good fit.
I look forward to working together.
With love,
Anne x